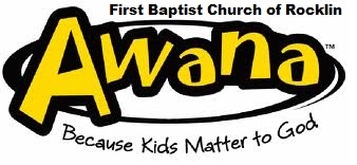 Awana helps churches and parents work together to develop spiritually strong children and youth who faithfully follow Jesus Christ. This is done through playing exciting games, competing in rewarding and challenging contests, receiving awards as reinforcement for their hard work, and most importantly, learning and memorizing God's word, the Bible!
Ages: Potty trained 3 year olds - 6th grade
Day & Time: Wednesday Nights 6:30-8:00pm
Starts October 4th and ends May 30th
Cost: Yearly Registration Fees*:
$35.00 for first child
$30.00 for second child
$25.00 for third child
$100.00 cap per family
Weekly Dues: $.50 per child
*We never want financial problems to be a reason to keep a child from coming to Awana. If this is a problem, please come to us and we will work out a payment plan or church sponsor under special circumstances.
Check us out on Facebook